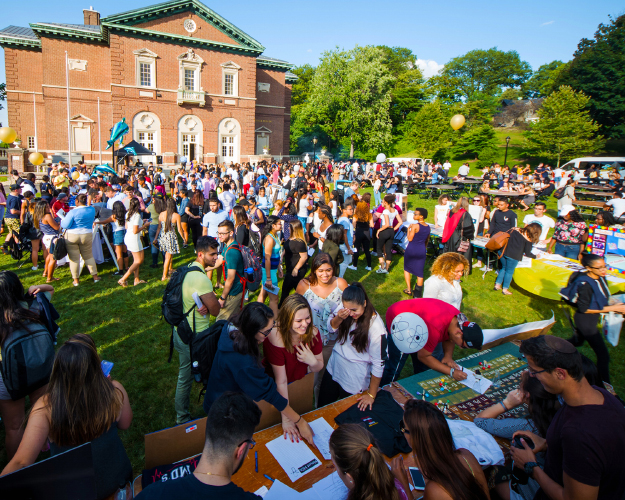 By Jeremy Tiers, Senior Director of Admissions Services
 2 minute read
College and universities love to share tons of facts, figures, and bullet points when they communicate with inquiries, prospects, admitted, and committed students.
The problem is, often times you end up vomiting information. It's not fun for you, nor is it fun for them.
Anytime you present information it's important that you take the extra step and explain to students how they will personally benefit from what you're sharing. When I lead training workshops I refer to this as "connecting the dots."
Our ongoing survey research continues to find that most students don't make those connections on their own. Instead, oftentimes they struggle to differentiate between schools.
Step one involves understanding which information students at different stages care about most. Today I'm going to focus on your admitted and committed populations.
Here are four things that those two groups rate as very important in their college decision. Have you talked about these lately – and in a way that feels personal?
How your school will help make the transition to college life easier and less stressful. What programs and people does your school have in place to help new students both academically AND socially. Share stories about the different programs, resources, and services your school offers, and how those things helped make it easier for your current students to fit in, feel comfortable, and feel supported as a new student.
Your dorms and campus life. Believe it or not, you don't need the newest and biggest dorms to win over students. Instead, you need to make sure they understand why your current students love your campus life and dorm community, and how that atmosphere will positively impact their day-to-day living. That includes talking about the role of your RA or RD's, as well as fun traditions and events that take place throughout the year.
The food on campus. Every school has a dining facility and other options to grab on the go. You need to prove how yours are different and why yours are better. For example, maybe you bring in celebrity chefs from time to time or maybe your food is locally sourced. Maybe have an eco-friendly dining hall, a unique "student choice" option where every semester students vote on menu changes, or you offer 600 menu items daily. Maybe it's just the fact that you have a Starbucks on campus. Whatever it is, prove to prospective students that they will have options to eat and you'll move up their list.
How a degree from your school will help them after they graduate. A lot of admissions counselors say things like, "97% of graduates are employed or continuing their education within six months of graduating." That's better than nothing, but honestly there needs to be more substance. It's imperative you prove to students and their parents via real-life examples how your school is going to effectively prepare them to find and successfully start whatever career they're interested in. If they have no idea what they want to do, how will your school help them figure it out? What internships and experiences are your current students involved in? And, what are your recent grads doing immediately after graduation? In our ongoing survey research, graduation outcomes continue to rank as one of the top five most important factors in a student's final decision – they need to feel like there's a path.
If you'd like to talk more about something I said in this article, let's do it. Simply reply or email me here.
And if you found this article helpful, forward it to someone else on your campus who could also benefit from reading it.