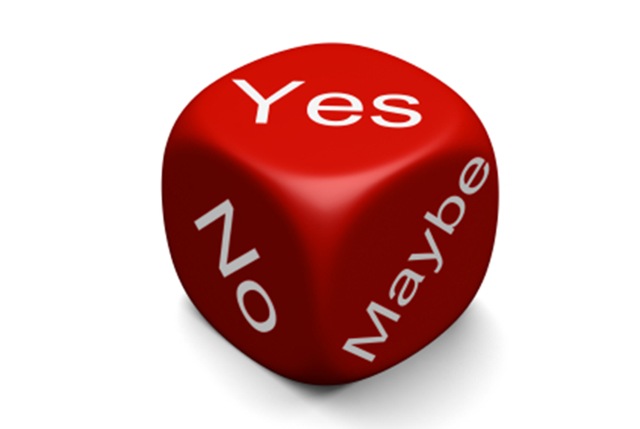 Figuring out the right way to reach out effective with a phone call or text message seem to be on the minds of college coaches this time of year as new prospects start to flood recruiting lists around the country.
Not a surprise, really.  There have never been more ways to reach a recruit, and there's also no doubt that something simple ilke a phone call is still critical to moving the recruiting process forward.
Forward, that is, towards getting a "yes".  The yes is what every coach is looking for, and there are definite rules that apply when it comes to putting yourself in the best position to get that thumbs-up from a recruit.
So with that in mind, here are three really important strategies when it comes to getting a "yes" from a prospect you are recruiting, whether you're at the start of the process or trying to quickly wrap-up your recruit.
YES STRATEGY #1: Don't react negatively
We've all sent an email, or said something in haste over the phone, that we wish we could take back.  Either we're upset by what we've just heard, or we say something that just doesn't put us in the best light with a recruit (or their parents) as the recruiting process gets started.
It doesn't even have to do anything with recruiting…we've all overreacted to something trivial, and wish we could take it all back and start fresh.
What it means to your recruiting conversation: It's great to feel passionate about what you're selling, especially if your school or program has a lot to be proud of. But before launching into a feverish sales "rationale" with your teenage prospect or their parents, take a minute to figure out what your prospect really wants. Some prospects want security and might be looking to commit early, while others might like the excitement of trying to see how many top tier schools they can have a shot at. They might want a challenge, they might want to feel wanted, they might want to know that they will fit into your team dynamic.
What is it you're really selling, Coach? Is it what you should be selling to that prospect you're about to contact for the first time? Know before you get started. For this generation of college prospect, it's often something deeper than the thing you're excited about. And sometimes, it's less. It's your job to find out.
YES STRATEGY #2: Disarm Your Prospect
In recruiting, we're not really talking about "opponents" in terms of how you might view your recruits.  The prospect – and their parents – are not your enemy. And in a negotiation about what you're offering them at your program you're better off thinking the same way. That is, instead of looking at the recruiting process as two sides facing off over the offer you're making, you'll get much better results if you "step to the other side." In other words, do the opposite of what your recruit expects.
And the easiest way to do this? Simply agree with your "opponent" on as many points as you can. Build consensus first, before you try to defend a single counterpoint of your own. Most negotiation experts tell us the best negotiators even steer clear of using the word "but." They instinctively replace it with "and" wherever possible.
What it means to your recruiting conversation: This is a lot like what we're doing in our Total Recruiting Solution plans for coaches who we work with one-on-one that we develop for coaches and programs when we try to ask questions designed only for a "yes" response. For instance, stating our prospect's own rationale right back to him and tacking on a line at the end – something that might sound like, "Wouldn't you agree?"
At their root, these are just time-tested copywriting techniques, of course. The bigger idea I want to try to convey to you as a recruiter is that when you can show agreement with your prospect's own opinions – in person, over the phone or in print – do so. It will pay off in the end.
YES STRATEGY #3:  Change their frame of mind.
This is a more advanced tactic, because it requires listening better than most people and thinking more creatively than anyone else in the negotiation. It's one of the things we go into more detail on in our recruiting guides for college coaches.
What you're doing is looking for solid ways to "reframe" the objections to your counterpoint in the discussion you are having with your prospect. You're actively exposing the objections and stonewall tactics… then finding a way for both of you to get around them.
This is where a real recruiter shows his or her expertise in overcoming an objection.
What it means to your recruiting conversation: As tough as this is to do, the parallel here is easy. Too often, I've seen new college coaches try to avoid the prospect's potential objections to an offer or opportunity rather than raising them in their recruiting letters, emails and conversations. But just because you don't confront the reader's doubts or objections doesn't mean they don't exist. Or that they won't stop your recruiting effort cold in its tracks.
When you get the urge to sneak around an objection, don't. Especially at the start of a relationship with a new recruit.  Take time to actually list every objection you can. (Even better, make this list before you start writing the recruiting letter.) You're playing your own devil's advocate, coming up with every reason why a prospect might NOT want to take a serious look at your program.
Once you've got this list, you can use it to tweak your recruiting outline. You can even hit each objection head on, writing responses almost in a Q & A style. Or try making every subhead a persuasive resolution to every doubt you suspect your prospect might have about what your program is offering.
But be careful. This isn't about dismissing a legitimate objection out of hand. Rather, you're easing doubts and building consensus, and getting them to see the advantages of what you're offering them.
As many of you start your phone calls in the not-to-distant future, you have a desire to start hearing "yes" as soon as possible.  That doesn't happen by accident:  You have to earn the "yes".
And, earning the "yes" from a new prospect requires active, engaged communication that helps them overcome their initial objections they might have about the idea of competing for your program.
Want more in-depth training on how to effectively, and creatively, earn your prospect's "yes"?  You can also enroll in Tudor University, the nation's first comprehensive online recruiting training and certification course for college coaches. Both are excellent, cost effective resources that allow you to invest in your career as a college coach.