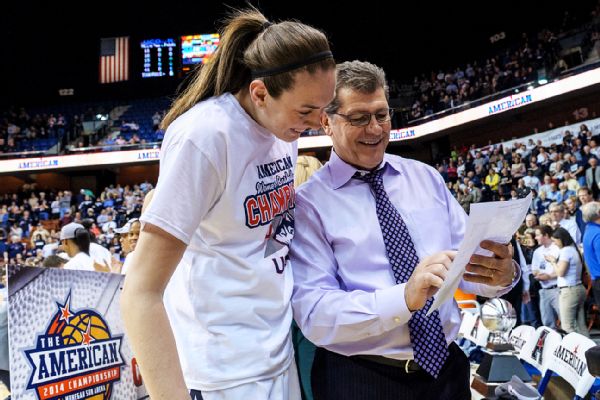 I had the chance to be in the crowd at the 2014 NCAA women's basketball national championship game, where the UConn Huskies won the title and completed a perfect season.
At the center of the celebration was their longtime coach, Geno Auriemma.  Fans of women's basketball seem to either love him or hate him (proportionally, I'm guessing, based on how close you live to Storrs, Connecticutt).  However, no matter which side you land on, you have to admire what he has built through recruiting and coaching.
But what I want to focus on has nothing to do with how well his Huskies played against a previously undefeated Notre Dame team.
It's actually something I heard their talented center, Breanna Stewart talk about in front of their cheering fans as they were being presented with their championship trophy.  She was asked about how Coach Auriemma convinced them that "the pressure of going after perfection was fun."
"This season we wanted to chase perfection, and we did that," said Stewart, the 2014 Women's Final Four MVP.
Added senior center Stefanie Dolson: "Everyone said we had a lot of pressure on our backs but we didn't. We went in there having fun. We were loose and playing great."
For me, this was the big story that not enough people are talking about – and not enough coaches are trying to emulate.
Coach Auriemma has put into practice an idea we've advocated for several years, based on our research and focus group studies with prospects and current college student-athletes:
Today's athlete needs (and wants) to know how to think about ideas and facts you may be presenting them.
That doesn't mean their not smart.  They are.  And, it doesn't mean that they are ripe to be manipulated or tricked into playing for another coach (well, most of the time anyway).
What it does mean is that they need help defining how to think about an idea that you are trying to present them, whether that's when you are recruiting them or when you are coaching them.
Let's rewind to Breanna Stewart's comments that I listened to at the Final Four.  To paraphrase, she recalled how Coach Auriemma starting talking to the team about how fun they were going to have trying to chase perfection and win a national championship.  And, that the pressure and incredibly hard work that it was going to take to achieve that goal should be…wait for it…."fun".
In short, he took a concept with a lot of potential negativity tied to it – hard work, sacrifice, pressure – and declared it to be "fun".  And, as most teenagers and young adults tend to do, his team listened to what he was saying and decided to believe it.
Understand, they had the choice to look at it as a negative. Truthfully, most coaches and student-athletes are going to choose to take that approach.  As humans, we tend to look at the worst possible outcome for a particular situation, not the best.  What happens when you are told something contrary, and buy-in to a coach's vision and enthusiasm?  You win national championships.
Again, here's what Coach Auriemma did:
Observed a potential negative situation.
Crafted a more positive way to think about that potential negative situation.
Verbally reinforced the way he wanted the situation to be viewed by his team.
Followed through with that idea throughout the season.
Resulted in a positive outcome.
Your words and ideas are powerful.  What you tell your recruits, your team, your assistant coach, your head coach, and your athletic director, about how to view a situation is key to making it through that potential negative situation.
What kind of situations or obstacles are needing your defining (or re-defining)?  It might be your team's record, your facility, your college's location, the challenge of trying to win a conference title, the challenge of winning your first conference match in two years, the challenge of recruiting your best class ever, or why the new offense you are installing this next season is going to be the key to turning everything around.
Whatever it is, your team is listening to you.  What exactly are you telling them?