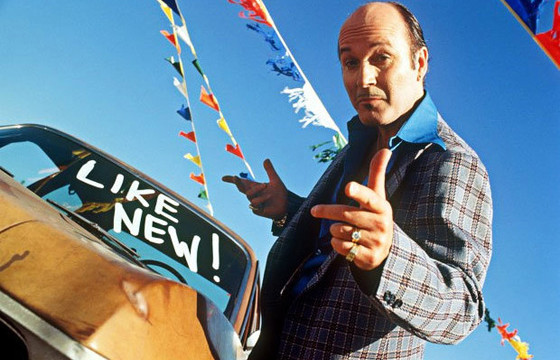 Most of us don't like interacting with people we don't feel like we can trust.
The reason we don't trust the telemarketer that calls us is because we don't know her, and it doesn't feel right that a complete stranger should be calling us to sell us something.
The reason we don't click on 999 out of 1,000 pop-up advertisements on the Internet is because we remember the time we were burned before when we accidentally downloaded a virus on our computer.
The reason we don't like to go shopping for new cars is because we know we're going to feel pressured by a salesman who gives us the feeling that he's being less than truthful about the promises he's making to us.
And that gut reaction we all have to each of those three scenarios has big implications for college coaches.
More than ever before, our research shows that one of the key steps in the mind of your recruit as they assess the credibility and believability of coaches that recruit them. You might also find yourself reassessing how you interact with your recruits, and figuring out how effective it is (or isn't), it's important to understand that the same factors you use to judge the trustworthiness of telemarketers, pop-up ads, or car salesmen, are being used by your teenage prospects – and their parents – to judge your trustworthiness.  And, like you, they're figuring out whether or not to have a serious interaction with you based on whether they feel like they can trust you or not.
This is important to understand, Coach: The decision to interact happens before your recruit actually listens to what you have to say. How you construct your letters, what you say in your emails, and how you interact with them on social media will determine whether or not you get to communicate with that recruit.
And you might be surprised at how many different types of interactions factor into whether or not your recruit chooses to trust you enough to communicate with you.  Here are a few of the most important:
Your direct interaction between you and your recruit: Did the recruit see how you coached at a camp they attended? How did you act when they watched practice during that unofficial visit?  The way your recruit feels about that momentary experience will alter their interaction with you, either positively or negatively. If you're reaching out and communicating with them for the first time, you can bet that the way your message is worded is going to determine whether or not they feel you're worth the interaction.
What they've heard about you:  If your recruit heard good things about you from people he or she knows, the entire relationship changes. You automatically get the benefit of the doubt.  So, it begs the question: What are you doing to make sure that your current team, former recruits, and the parents of all of those student-athletes, are saying good things about you to your future prospects?  (It's an important question, because we find that they are almost always talking about you.  The only thing you can control is what they're saying).
What your website, social media and written messages look like:  When they look at those properties and platforms you're using to communicate with them, what is the brand image that comes to their mind?  If you're a smaller school, do you equalize yourself successfully the bigger brand programs?  If you're one of the bigger programs, how are you separating yourself from your other big-name competitors?  Serious question, Coach.
Your tone of voice:  This has everything to do how your message (your letter, your email, your phone call) sounds.  When you're writing your message, does it sound like you would if you were talking face to face with your prospect?  Or, does it sound so formal that your recruit is going to know it's the typical, mass mail, non-personal message that they're used to?  Also, are you patient and not rushing your recruit?  Are you pushing too early?  Urgency rarely leads to increased trust from your recruit.  Make sure you are messaging your recruit the right way.
Whether you sound scarce, or plentiful: Ever wonder why we recommend a fair but firm deadline in most circumstances?  Because it works.  If you're the coach that gives a recruit all the time in the world, and lets them know that they can make the decision any time they want, expect to come across as a program that will take anyone at anytime.  For most coaches, that doesn't work.  You need to find some kind of "scarcity" to talk about with your recruits.  Scarcity leads to action.
The size of the commitment you're asking for: If you're asking me to reply to your email early in the recruiting process, there's a good chance that's going to happen.  On the contrary, coaches who want long conversations on the phone right away struggle to get a recruit to respond.  Coaches who jump into an early conversation about a campus visit might be going too fast, too soon.  Be mindful of what you're asking them to do, and how early in the recruiting process you're asking for it.
Your offer:  What's in it for your recruit to listen to what you're asking them to commit to?  It's a simple but serious question.
Their fear:  As we talk about extensively in our On-Campus Workshop that we conduct for college athletic departments, your recruit's fear is present throughout the recruiting experience.  What are you doing to answer that fear?  How are you doing that early on, as well as late in the process?
What they see about you online:  What they read when they Google you, and how well you post on Twitter, Facebook and Instagram, matter.  It matters a lot, Coach.  Your online presence is one of the most immediate impressions that gets formed by your recruit.  And in most cases, it helps to determine how much interaction they wish to have with you.
How aligned with them you are:  How are you proving that you are just like they are, and understand where they're coming from?  More importantly, how are you communicating that?
Your honesty:  This generation of recruits and their parents are actively searching for coaches who prove they are honest.  It's vital that you demonstrate that honesty, and showcase it to them through your messaging.  You need to repeatedly demonstrate that you are the coach they can trust.  The coaches who are trusted get the best athletes at the end of the day.
How consistent you are in your recruiting efforts: How long have you been showing up? That's an important question in the mind of your prospect.  When we work with clients, and take their team through a series of focus group questions to determine how best to help formulate their recruiting strategy, one of the most common themes that stands out as being vitally important to recruits is how consistent a coach is in the way they communicate.  If you are the coach who sends a couple of messages at the start, and then is hit-and-miss during the rest of the recruiting process, you're probably going to get labeled as inconsistent.  And as our research shows, that's going to hurt you as your prospect reaches their final decision.
Since you're going to be judged by this generation of recruits, doesn't it make sense to make sure you're taking an intelligent, thorough approach when it comes to sending out a message that prompts interaction?
That's how trust with your recruit is built.  Start now, Coach.
Need help determining the best way to earn trust and create interactions with your recruits?  We successfully work with clients day in and day out throughout the recruiting year in helping them create winning recruiting strategies.  You've just read some of the factors we make sure are working in our clients' favor.  Are you ready to let us help you, too?  Email Dan Tudor directly at dan@dantudor.com to start a conversation about how we would do that for you and your program.