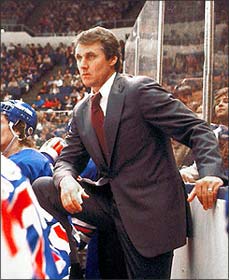 by Charlie Adams, StokeTheiFireWithin.com
You need to sign talent in recruiting and then develop it. Yes, there are many other factors, but talent is a biggie. The movie Miracle ends with captions of what happened to the players from the gold medal-winning 1980 US Olympic hockey team. What Disney showed was what they did as far as 'real jobs in the real world' and did not show that over half of the 1980 team would play in the NHL, some for many years. It was like in a subtle way the director wanted the audience to think these guys weren't good enough to have been pros, when in fact just over half were NHL caliber.
There is a perception out there that Herb Brooks drove around with a bus and got some hockey guys and went to Lake Placid and beat the mighty Soviets 4-3. The reality is he had a lot of really talented players with physical gifts.
Buzz Schneider could run a 4.2 in the 40. Bill Baker looked like he had stepped off a Viking ship. Mark Pavelich was quicker than a butterfly with hiccups. Ken Morrow was a 6'4 sentry of a defenseman who would win four straight Stanley Cups with the Islanders right after the Olympic run.
When I work with college programs, my point is that it was NOT a miracle back in 1980. It was EARNED. There is no reason that every college program cannot reach their dreams because that team showed it was possible. After really hearing their backstory, your players and coaches will feel there is NOTHING they cannot accomplish and NOTHING they cannot overcome.
The players Herb basically recruited to the Olympic team were not as skilled as the Soviets. Herb knew he couldn't match their skills in seven months so he focused on maximum conditionging. "We may not be the best team in Lake Placid," Herb would say, "but we WILL be the best conditioned."
Herb would tell them that they did not have enough talent to win on talent alone. He didn't mean they had to get more talented to beat the Soviets and Czechs, but they had to become a total and complete team, have the ability to take advantage of opportunities, and be in Sparta-like condition.
"You don't put greatness in people. You pull it out." Herb always said that and he pulled it out of them over 7 months from July 1979 to February of 1980. He would say, "Men, I appreciate your talents and therefore I am going to maximize them."
When Herb brought the 60-plus players to Colorado Springs in July of 1979 that would be whittled to 20 just before Lake Placid, he brought a lot of talent in. But as I have said before, he was looking for the right players and not the best players. Here is an example from my background. I was a TV News sports director at local stations for 25 years, including South Bend, Bakersfield and New Orleans. When I was in South Bend many top line sports reporters wanted to work at the CBS station I was at because Notre Dame football was on a tear from 1988 to 1993. I would get job applications from guys in big markets and pro sports backgrounds. I would listen to them, but would always hire a guy from a smaller college with a more humble background. That was the right guy. The best guys, the ones with the big names from having played pro ball, would be happy in Notre Dame football season, but I knew once I asked them to grab a TV news camera and drive to Bremen High to shoot girls basketball in the dead of winter, they would recoil in horror. Instead, I hired guys like Dean Huppert who had played tennis at D2 Univ of Indianapolis, and Greg
Carroll, who had played soccer at Xavier, and Greg Kerr who had played baseball at VCU. In over 25 years, I had people call in sick less than ten
days. That's because they cared. And, they were very talented. People like Dan Tudor, who was a sports reporter for me at KBAK TV in Bakersfield and would go on and develop his Selling for Coaches program.
So, like Herb, in recruiting go for talent, but the right kind of talent. Don't buy into the myth that the Miracle on Ice team was a lucky thing that happened. They earned it. Sure, the Soviets probably 'won' that 4-3 game in that they out shot the U.S. boys 39-16, but Herb had put together enough talent that was opportunistic enough to outscore them.
And in the end, in the big game that is all that matters.
Motivational Speaker Charlie Adams delivers his More Than a Miracle program to college coaches and athletes. He explains how the 1980 Miracle on Ice was not so much a miracle as it was work ethic, remarkable vision and leadership, commitment to change, commitment to team, and perseverance.
Charlie can be reached at StokeTheFireWithin.com and at charlie@stokethefirewithin.com