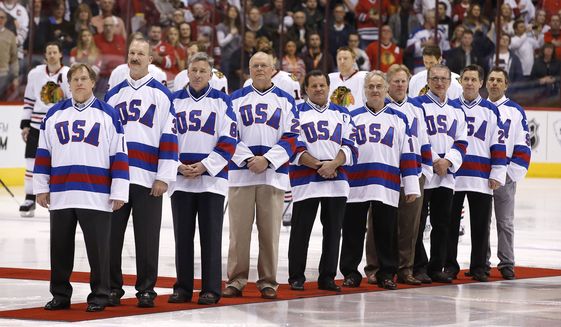 by Charlie Adams, StokeTheFireWithin.com
As college coaches, you are not only recruiting talent but also helping to develop these young people to have success in life. Of the twenty players on Herb Brooks Miracle on Ice team, all of them have gone on to be successful. While over half played professionally, including several with long NHL careers, what is most important is that because of their upbringing, their inner fire, and the drive from Herb, they have done well in all walks of life. Here is an update on this special group  that galvanized America. Their average age today would be 57.
Steve Janaszak: Steve is an investment manager in New York. Even though he was 1st team All America at the University of Minnesota, Herb told him he was going to ride Jim Craig all the way as goalie in Lake Placid. Steve never played, but never was a disruptive force. He was such a team player that he even sharpened skates of teammates in intermissions. After retiring from mainly minor league hockey, he went on to work as a bond salesman for an investment banking firm on the 89th floor of the South Tower in the World Trade Center until March 2001, leaving the company six months before 9/11. He says the company lost 67 people when the towers collapsed, including most of the people on the trading desk where he had worked.
Ken Morrow: Ken is director of scouting for the New York Islanders. The 6'4″ defenseman was so talented that the Islanders signed him right after Lake Placid and he was a part of four straight Stanley Cup title teams.
Mike Ramsey: Mike is retired and lives in Minnesota. He was a four-time NHL All-Star in a 14-year career with the Sabres. Also played for the Penguins and Red Wings. Was an assistant coach with the Sabres and North Stars.
Bill Baker: Bill is an oral surgeon in Minnesota with multiple offices. He excelled academically at prestigious Washington University's dental program in St. Louis in the years after the Miracle on Ice. He played for four NHL teams. At Lake Placid, Bill scored the tying goal vs Sweden in the opening game, salvaging a critical 2-2 tie. It would be his only goal. Herb built his team on players that would step up when needed most.
Dave Silk: Dave is an investment manager in Boston. He played for several NHL teams and was an assistant coach at Boston University. Herb knew how to trust verified resources when researching potential players for his 1980 team. Initially skeptical of Silk, one of Silk's coaches told him that Dave would be the guy out their in crunch time for him. To realize that turned out to be true, all you have to do is hear what Al Michaels said: "Eleven seconds, you've got 10 seconds, the countdown going on right now! Morrow up to Silk. Do you believe in miracles? YES!" Yep, he was out
there.
Neal Broten: Neal is a horse farm operator in River Falls, Wisconsin. He played 17 NHL seasons for four teams. A believer in identifying talent early, Herb targeted him as an 8th grader and made sure someone on his University of Minnesota staff saw him in person regularly through his high school career.
Mark Johnson: Mark, who scored two of the four goals in the 4-3 win over the Soviets, is head coach of the University of Wisconsin women"s hockey team, and has been head coach of Team USA women in the Olympics. He had an
illustrious NHL career, and says he became a Christian when playing, ironically, for the New Jersey Devils.
Steve Christoff: Steve is a pilot for Endeavor Air, based in Minneapolis. He played for three NHL teams from 1979-84.
Mark Wells: After playing some minor league hockey and moving into the restaurant management industry, Mark was diagnosed with a degenerative spinal disease that has led to over ten operations and left him bed ridden for an extended time. Always a fighter, he is still battling and is working on a book named 'Last Man In.' Mark was the final player chosen by Herb for his roster.
Mark Pavelich: Mark is a land developer. The Minnesota-Duluth alum made the assist to Mike Eruzine's historic winning goal vs the Soviets. Passed over by the NHL because they felt he was too short, Mark played overseas for a year. When Herb became head coach of the NY Rangers, he signed Mark, who promptly proved the so-called NHL talent experts wrong, and even became the first American to score five goals in a NHL game. When Herb left, Mark lost interest in playing for coaches without Herb's creativity, and retired from tne NHL in his prime.
Jack O'Callahan: Jack is a high ranking part of Beanpot Financial in Chicago. He played in the NHL from 1982 to 1989, primarilly for the Blackhawks. A top academic student at Latin High in Boston, he turned down Harvard to play for Boston University where he would lose ten teeth and have around one hundred facial stitches during his days there. Herb loved that tenacity and kept him on the Lake Placid roster even though he hurt his knee pretty bad in the final exhibition before the Games. Mike Eruzione would later say that was a huge move, as it inspired the team.
Eric Strobel: Eric had part ownership of a golf club in Fifty Lakes, Minnesota, before retiring. His pro career ended early when he suffered a broken ankle while playing for Rochester. He then became a telephone sales executive in Apple Valley, Minnesota. Herb motivated him by telling the media that Eric had a million dollar pair of legs but a fifty cent fart for a brain.
Bob Suter: 'Bam Bam' became the first of the twenty players to die, when he had a heart attack last September at age 57. He was at the rink where he had inspired countless young people over the years in hockey and life. Bob never played pro after Lake Placid, focusing on returning to Madison, Wisconsin and teaching youth hockey. His life motto was "It's all about the kids." There was no church big enough to handle mourners, so his service was moved to a local arena. Bob's son Ryan is a NHL All Star with Minnesota.
Mike Eruzione: Mike is director of special outreach at Boston University and is still in demand as a motivational speaker. Overlooked by D1's in high school, he was going to go D2 until the new Boston University coach saw him the summer before his freshman year, and signed him. New Hampshire was one of the D1's that felt he didn't have what it took. Eruzione torched them for four years, leading their staff to develop a new recruiting world. They said they never could be "Eruzioned" again in recruiting, meaning they could not overlook a recruit that maybe did not have their measureables. Even though he could have played pro, Mike never did after Lake Placid, saying nothing could top that experience. He received thousands of letters after the Games, including eight from people that said they were going to kill themselves, but did not after watching Team USA.
Dave Christian: Dave works for a residential glass manufacturer in Minnesota. Dave played 16 years with five teams in the NHL. Experts say the best coaching move Herb made was asking Dave to move from center ice to defenseman, as injuries had taken their toll on defensemen. Ever the team player, Dave totally bought into the move. This was a young man who gave up the more glamorous offensive position to help  get the puck out of the zone on defense. He was so talented on offense that he later set an NHL record by scoring seven seconds into his career with the Winnipeg Jets.
Rob McClanahan: Rob is managing director and head of institutional trading at ThinkEquity Partners in Minnesota. Rob played for the Rangers coached by Herb in 1984. Rob and Herb had the famous heated exchange in the locker
room after the first period of the Sweden game, leading them to be separated out in the hall. Rob would later score in the winning goal in the gold medal game vs Finland, and today is on the board of directors for the Herb Brooks Foundation. He says no other coach could have taken that team to the gold except Herb.
Buzz Schneider: Buzz is a successful real estate agen in Minnesota. He played professionally overseas and in the minor leagues. He was the only player on the 1980 team that had played on the 1976 team, and he scored the first goal vs the Soviets in the 4-3 win. Emphasizing speed, Herb loved how fast Buzz was, as he had run the 40 in just under 4.3 seconds.
Phil Verchota: Phil is senior vice president of First American Bank in Willmar, Minnesota. He played in Finland after the Olympics but returned to the U.S. team in 1984.
John Harrington: John recently was named head coach of the University of Minnesota-Mankato women's hockey team. He was the men's coach at the University of Saint John's in Minnesota for a long time, often calling Herb for coaching advice. He also was a scout for the Colorado Avalanche. After Lake Placid, he played minor-league hockey and on the 1984 Olympic team.
Jim Craig: Jim is an in demand speaker and team builder as owner of Gold Medal Strategies. The goalie stopped 36 of 39 Soviet shots in what has been called the greatest performance under pressure in the annals of the Olympics summer and winter Games. Even though experts had other college goalies rated ahead of him, Herb went with him as he wasn't looking for the best players, but the right players. After a standout career at Boston University, he played briefly for the Flames, Bruins and North Stars.
All of these men were picked by Herb not only because of their skills and speed, but because of their intelligence, family backgrounds, and inner fire. All of them have been successful in life, thanks in part to Herb telling them things like this during their seven months together in 1970 and 1980, things that you could tell your athletes today:
"Set goals in life or forever work for those that do."
"Form good habits and become slaves to them."
"When we come together we can do the improbable and perhaps the impossible!"
"Work so hard and become so good that you make it impossible for me to cut you."
"Give 99% and make my job easy to cut you."
"We should be dreamers. We grew up as kids having dreams, but as adults become too sophisticated. We stop dreaming. We should always have dreams."
"Motivation is the energy that makes everything work. It is clearly the single most critical part of performance."
"Risk something, or forever sit with your dreams."
"Don't be common. The common person goes nowhere. Be uncommon."
"The name on the front of the shirt is a lot more important than the one on the back."
"You don't put greatness into people. You pull it out of them."
Charlie Adams is a motivational speaker with 35 years of experience. For more information on his workshops and how to book one for your program, please visit his website or email him at: Charlie@stokethefirewithin.com