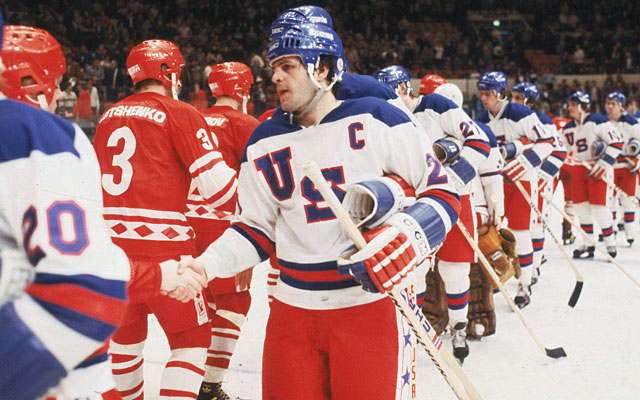 by Charlie Adams, StokeTheFireWithin.com
There will be times when your programs will be young with many freshmen. The natural tendency is to downplay expectations when you are a young team, but Herb Brooks sure didn't take that approach. As head coach of the 1980 Miracle on Ice hockey team, he specifically recruited very young players to try out and to make up his 20 man roster. These kids would stun the Soviets 4-3 in Lake Placid, New York, and then win the gold.
The average age was 21 and it was the youngest team in U.S. Olympic hockey history. He had only one player from the 1976 team and that was Buzz Schneider. Buzz and Mike Eruzione were 25 and everyone else was around 20. Herb wanted young players with a bucketful of working class gumption and flying skates.
He told them to 'use their youth'. His strategy was to build through blistering speed. During their rigorous seven month training he constantly said 'legs feed the wolf, boys. Legs feed the wolf!' He told them that being the youngest team of the 12 in the Olympics was not a negative but a positive.
Sure enough, when they met the dynasty Soviet team on Feb. 22, 1980, their youthfulness was the reason they won the game. While the Soviets had three of the six greatest players of all time on that roster, several of their players were into their 30s. In the final minutes of the third period with Team USA up 4-3 the Soviet coach panicked and kept his veterans on the ice thinking they would surely do something! Herb had his team doctor time shifts the whole night, keeping his boys to forty seconds on ice and  then off. The Soviets were known for wearing down teams with their incredible conditioning drills, but in the third period it was them that wore down. One Soviet player looked over at Doc Nagobads and asked how the U.S. players could keep going and going. Doc, who knew Russian, simply said it was "the fountain of youth."
If you find yourself in a recruiting cycle where you have to bring in a lot of freshmen, use it as a positive like Herb Brooks did in 1980. He also changed the Team USA style of play from a conservative approach to a more high flying and more creative style of play on the ice. The youngsters ate that up, and played with great spirit on the ice. One Soviet player said the US players had a spirit that you could almost touch.
When they had upset the Soviets the players sat in stunned silence in the locker room before breaking into God Bless America over and over. It took them awhile to realize the magnitude of what they had accomplished (Sports Illustrated would name it the greatest U.S. sports moment of the century). One of the positives about having really young kids on your roster is sometimes they don't realize they shouldn't be able to beat a team like the Soviets. Older players sometimes over analyze and ask why. Young kids sometimes say 'why not?'
Herb Brooks was a genius in how he formed that team and led them through their journey to sports history. In my teambuilding sessions I share what he did and how you can apply it to your program.