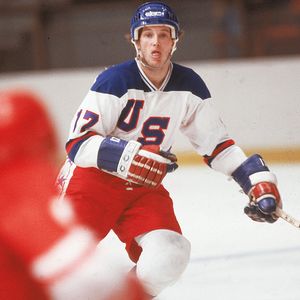 by Charlie Adams, StokeTheFireWithin.com
You win college championships when you recruit players like Jack O'Callahan.
The greatest moment in United States sports history was when the 1980 Miracle on Ice U.S. Olympic hockey team beat the dynasty Soviet team in Lake Placid, NY, and then won Gold two days later. They did it because Coach Herb Brooks had molded teams with players such as O'Callahan.
O'Callahan grew up in Charlestown, Massachusetts by Boston. His house was close to Bunker Hill. O'Callahan's approach to sports was Bunker Hill. In 1775 greatly outnumbered Patriot soldiers twice held back the Redcoats. Not until the third wave did they have to retreat. In the process they took out half the British forces.
O'Callahan graduated fifth from Latin High School in Boston, the oldest public school in America. Benjamin Franklin and John Adams went there. Smart as a whip, O'Callahan also had a burning passion for hockey and to win a national championship. Harvard offered him. He turned them down for Boston University because he felt they offered a better chance for a great education and a national title.
O'Callahan lost about ten teeth and had around 100 stitches during his BU days. He left it all out there, and was an incredible inspiration to his teammates. He truly took the Bunker Hill approach.
Olympic coach Herb Brooks had done extensive research of college players while he was coach at the University of Minnesota. He had made countless calls to college coaches to learn things like the fire within of O'Callahan. During the seven month stretch of training for the February 1980 Games, Brooks went to him and said that when he yelled at him while calling him O'Cee (his nickname) he was speaking to the whole team, but when he yelled at him saying Jack he was getting on him.
After 61 exhibition games, their last was in Madison Square Garden vs the powerful Soviets three days before the Olympics. Team USA got whalloped 10-3 and O'Callahan suffered a knee injury. It looked pretty bad. Herb had to submit the 20 player Olympic roster in 48 hours, a roster that could not be changed. The Team USA committee pressured him to bring in someone else. After a few diagnos' on the knee, one Doctor said there was a chance he could play after a couple of games if therapy went right.
Herb went to O'Callahan and told him there were 19 other guys looking for him to do what was best for the team. O'Cee nodded, sadly. Herb then said that was why he was going to keep him on the roster. If he couldn't play then his fire and passion would be important. O'Callahan was beyond jubilant.
Mike Eruzione said later that move was huge in them winning gold. It sent such a jolt of positivity through them, as they had become such a family.
O'Callahan did miss a couple of games, but played the rest of the way. He was not 100% but he was out there. He paid the price. He had to give up his first season of NHL hockey because of playing on the wounded knee. He could have risked his entire pro future had he had it hurt again, but he wanted to be there for his team.
Recruiting players like Jack O'Callahan are pivotal in building championship college programs.
Motivational Speaker Charlie Adams delivers his More Than a Miracle program to college coaches and athletes. He explains how the 1980 Miracle on Ice was not so much a miracle as it was work ethic, remarkable vision and leadership, commitment to change, commitment to team, and perseverance.
Charlie can be reached at StokeTheFireWithin.com and at charlie@stokethefirewithin.com