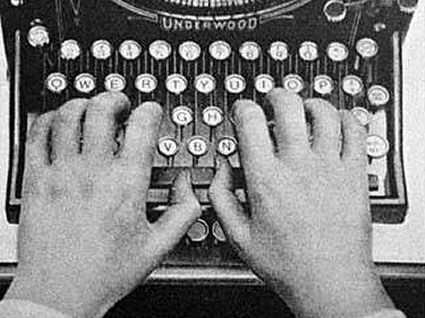 by Sean Devlin, Front Rush
The best skill that I ever learned was how to type.
Recently, I have been thinking a lot about this idea of "always improving". You know, the new things that you can learn that will help you on a day to day. The one common theme I hear a lot is "I wish I had learned to type better".
Maybe it's my ignorance (being the son of a typing teacher)  but for a long time I took this skill set for granted.  As a typer watching someone who is not, you generally get the feeling that there is productivity loss occurring. Its simple math:  What a fast typer can do in 10 minutes, it may take a slow typer 30. Without double checking my work, that's 20 minutes.
If your not an expert typer, I would strongly urge you to take the time to learn. Like anything, its probably a frustrating task to take on however I can assure you, with all of my heart, that its rewarding.  The productivity gains are astronomical.  Take into account all of the time that you spend in front of a computer and how much of that time is spent typing, the seconds/minutes/hours add up extremely fast.
Then, think about it from a financial perspective. A lot of the money that you are putting into new mobile apps, or devices, or computers, or software are the result of the third party investing in speed. Essentially you are paying hard dollars for that speed, so leverage it instead of losing precious moments due to slower typing.
The web today can teach you to code, or play a piano, or meet new friends…and it can also teach you to type. If you Google "learn to type", you are taking the first step to investing in your future and always improving.
 Sean Devlin and the experts at Front Rush aren't just good typists.  They are also the nation's leaders when it comes to effectively organizing and tracking your recruiting information.  If you haven't seen what they're all about lately, you should…click here!